What Happened to Covrad Heat Transfer Limited?
API Heat Transfer, Inc. announced in January 2021 that its Coventry, England, facility (COVRAD) will cease operations following a downturn in revenue associated with the COVID-19 pandemic and changes in a key customer's purchasing decisions.
Service and Maintenance of Covrad Radiators
Broadland Radiators can service and maintain all models of Covrad radiator, including the supply of original components backed by OEM drawings. Broadland Radiators has a wealth of original drawings and can build exact replacements for existing COVRAD units. Broadland Radiators are the only UK manufacturer that can offer this.
Exclusive Covrad Service Agent
Broadland Radiators are the exclusive service agent in the UK and Western Europe for API Heat Transfer (owner of the Covrad range).
Unparalleled Covrad Experience
Broadland Radiators have a long connection with Covrad, having worked with Covrad for over 30 years.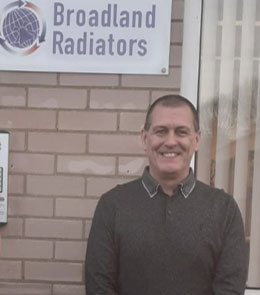 Furthermore, our Sales Manager Mark Hackleton (pictured) who joined us at Broadland Radiators in 2021 previously spent 42 years working for Covrad, working his way up to Director of Sales at Covrad.
Contact Broadland Radiators
For all your Covrad radiator requirements please contact us and we will be happy to help.