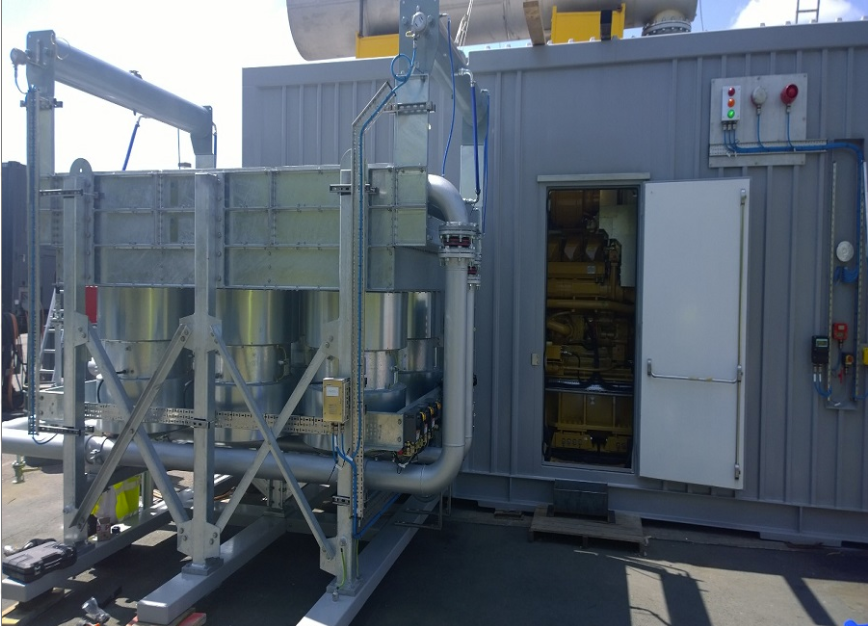 Broadland Radiators for offshore Cat®  Gensets from Finning UK
Broadland Radiators has supplied UK Cat® dealer Finning a pair of cooling packages for two Cat ® C175 generator sets to be used on a North Sea floating production storage and offloading unit (FPSO).
"Utilising Cat C175 engines, capable of producing more than 3200hp, we have built and tested two A60 custom power solutions for emergency and standby use which are both  Marine Classification Societies (MCS) prime rated," says Dave Perry, Prime and Solutions Sales Manager, of Finning (UK) Ltd. The company is the sole Cat dealer in the UK & Ireland working with many of the world's largest engineering oil and gas contractors to provide bespoke power system solutions.
"These generator sets required bespoke cooling packages for operation in the North Sea," he explains. "We needed to develop a solution to address the engine rating and the limited available space and Broadland Radiators was able to work with us to design products for offshore applications."
Broadland Radiators was selected to develop a pair of cooling packages due to its flexible approach to design and proven ability to deliver big projects on time, and on budget. Finning has had a long standing relationship with Broadland Radiators who has supplied hundreds of radiators for oil & gas applications globally and is part of the Caterpillar Group of Companies.
The Broadlands team, based in Norwich, UK, worked in partnership with Finning engineers throughout the design, fabrication, assembly and test process in order to meet stringent end customer requirements.
"This is the first cooling package we have developed for the powerful Cat C175 50Hz marine certified generator set, despite having supplied numerous customised radiators for most other Cat engines," explains Darrell Roper, General Manager of Broadland Radiators.
The C175 is a Cat diesel engine which Finning have combined with an alternator to produce a generator set built to world-class standards, for high efficiency, low fuel consumption and global emissions compliance. The units will be operational in the North Sea and supported by Finning's support network that can supply parts, service and repair.
For more information, visit www.broadlandradiators.co.uk, tel: +44(0)1603 413050.